Radon Mitigation.
If the radon level in your home is above 4pCi/L, you need to reduce it and conduct radon mitigation in your home. The higher the radon level in your home, the sooner it needs to be reduced.
A certified radon mitigation professional can help provide you with the most effective radon reduction solution.
Improving the ventilation in the building is often enough to solve the problem. A commonly-used method known as sub-slab depressurization. A pipe is installed through the foundation floor and is piped to the outside with a small fan attached, which draws the radon from under the house and pushes it back outside, before it can enter your home. This solution can reduce the radon level in a home by more than 90%.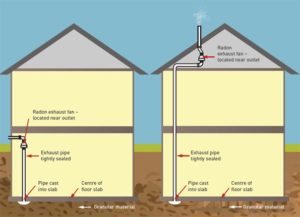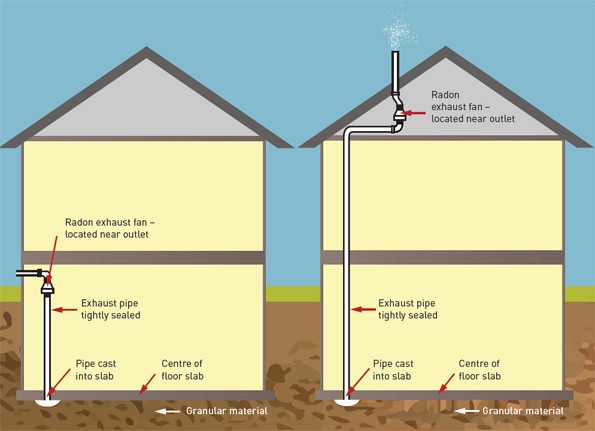 It might be necessary to not only to increase ventilation but also seal the radon entry points . Simple caulking of all openings in the concrete foundation floor can decrease the stack effect and therefore reduce the negative pressure in the lower levels in the home. Even more effective way is laying plastic sheeting between the gas permeable layer and the concrete slab or floor assembly. Same method can be used for the basement and foundation walls. All control joints, isolation joints, and any other joints should be caulked with an elastomeric sealant such as polyurethane caulk. However acoustical sealant, butyl rubber, or butyl acrlyic caulks form a more durable bond with the plastic.Field work suggests that other proprietary sealants are also effective, such as Proflex by GeoCel.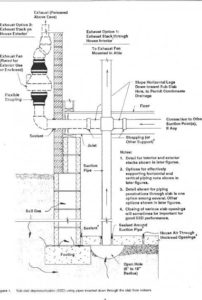 The success of any one radon-reduction method will be subject to unique physical characteristics of your home, the level of radon, how it is entering into your house . A single mitigation method may fix the issue, but from time to time a combination of several methods must be used.
The sub-slab depressurization system creates vacuum beneath the foundation and then piped out either the roof level or ground level of the home. The fan can be placed in the basement or an area outside of the living space such as in a garage or attic.
EPA's Consumer's Guide to Radon Reduction provides information n how to select the right contractor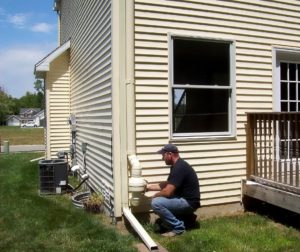 CE Radon Testing ℠ MD VA DC is serving following areas:
Maryland: Baltimore, Annapolis, Columbia, Silver Spring, Dundalk, Wheaton, Ellicott City, Germantown, Bethesda, Frederick, Gaithersburg etc.
Virginia: Arlington, Alexandria, Falls Church, Fairfax, Fredericksburg, Manassas etc.
Washington DC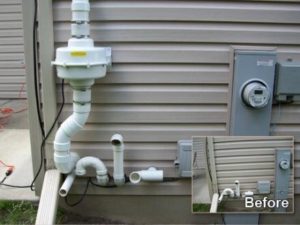 REFERAL:
https://www.epa.gov/sites/production/files/2014-08/documents/buildradonout.pdf
https://www.epa.gov/radon
http://www.nrsb.org/professionals.asp
http://sosradon.org/results-over4
https://www.cancer.org/cancer/cancer-causes/radiation-exposure/radon.html
https://www.montgomerycountymd.gov/green/air/Radon.html
https://www.epa.gov/sites/production/files/2015-05/documents/hmbuygud.pdf
CE Radon Testing ℠ is servicemark operated by Calamus Enterprises Llc