Radon Testing Process
Radon is a radioactive gas. It accrues in most soils after the decay of uranium. It finds the way out through cracks and other holes in the foundation of the building. Furthermore, your home traps radon inside, where it builds up to a dangerous level for the health of people. ANY home may have a radon problem. Even new homes which are well-sealed and older drafty homes, homes with slab-on-grade foundation, or houses with basements show an elevated level of radiation from radon. Please refer to the map of the average Radon level in the USA.
Montgomery County Maryland is in danger for health zone 1 with an indoor radon screening level greater than 4 pCi/L.
We are only dedicated to radon testing services to avoid any up-selling or unnecessary investments.
We are always on time!
According to the United States Environmental Protection Agency (EPA), radon causes roughly 21,000 lung cancer deaths each year. Moreover, the U.S. Surgeon General has informed that radon is the second leading cause of lung cancer in the United States and is the leading reason of lung cancer in nonsmokers.
Protect your family members by testing your home for radioactive radon.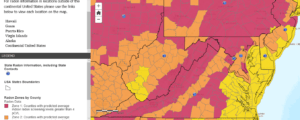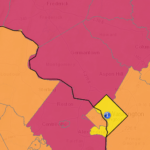 The 4 pCi/L radon level in the house creates the same risk as dying in a car crash. About 7 people could get lung cancer from 1000 if you don't smoke and 62 people will die from lung cancer if you smoke and exposure to radon in the house.
Click here to see the EPA Assessment Data
Call Mike for a Quote, Cell: (301) 275-5640
Radon Gas Testing Process Montgomery county and DC area
1. Determine your timeline.
Indoor air testing for radon levels requires a minimum of 48 hours using continuous radon monitors and closed building condition12 h prior to the Start and during the testing. We use SunNuclear monitors which are approved by NRPP, calibrated, and tested according to the NIST standards.
If you are on a limited timeline, for example in a real estate transaction, please keep this time guideline in mind. Moreover, we can't guarantee we'll have a testing monitor available without a few days' notice as summer is the busiest time in real estate.
Call Mike for a Quote, Cell: (301) 275-5640
2. Set up "closed-house" conditions
Radon levels fluctuate from day to day and from season to season( summer, winter), rain, wind, and other natural forces. For example, barometric pressure changes can change soil gas pressures and the amount of radon entering a home. It also depends on the resident's lifestyle — do they opening windows, use exhaust or ceiling fans, use the open wood fireplace, etc.
To standardize radioactive radon gas testing and to take away any lifestyle bias, "closed-house" conditions are required by NRPP and AARST for the duration of the short-term 48h testing for real estate transaction purposes. These conditions include keeping all windows and exterior doors closed (OK for the momentarily entry and exit), and keeping all fans turned off.
To ensure that homeowners and visitors are aware of the "closed-house" requirements, a certified radon measurement provider will post notices in the home at the time of the test.
3. Schedule your test.
For your convenience, we provide three different methods for scheduling:
Contact Us Form:
To help the scheduling process, please provide the following information:
-Client's name, phone number, and email address
-Property owner name and contact information (phone number, email)
-Real estate agent's name, phone number, and email address (when applicable)
-Desired start date
-Property address
-Property access method
-Payment method
We'll confirm your request within a few business hours
4. Radon measurement test for 48 hours.
5. The test results.
The radon test report will be emailed to the client and/or the real estate agent the same day. The report will include all 48 hourly measurements graphs and the average radon level in the house.
6. Pay for your test.
We accept four different payment methods:
1.Personal check at the time of the test
2.Personal check sent in the mail (Pay to Calamus Enteprises LLC; Memo: Radon Test; mailing address:  12532 Horseshoe Bend Cir, Clarksburg, MD 20871)
3.Payment at the time of closing via Title company(real estate transactions)
4. Online bill pay with PayPal
We'll email an invoice to the client, agent, and/or closing attorney, and we'll email a receipt (upon request) after payment has been received.
Call Mike for a Quote, Cell: (301) 275-5640
CE Radon is proud to serve clients in Frederick County. We offer digital radon testing service in Frederick, Urbana, Monrovia,
Thurmont, Middletown, Walkersville, Brunswick, Woodsboro, Adamstown, Emmitsburg.
CE Radon Testing ℠ is a servicemark operated by Calamus Enterprises Llc