Radon testing service in Potomac, Montgomery County, Maryland
Maryland has 24 counties and most of them have been assigned Zone 1 counties by the EPA. Zone 1 counties have the highest potential to have radon testing higher than 4 pCi/L. Let's take a look at the Maryland Radon map.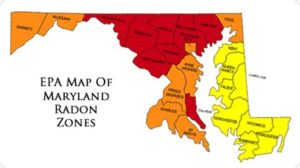 Call or Text Now: 240-242-5544
Onsite rapid 48h Radon Testing –  limited Special Offer $199!
We are only dedicated to radon testing services to avoid any up-selling or unnecessary investments.
We are always on time!
For example, In the city of Baltimore, 38% of a home has a radon gas level above 4 pCi/L . Radon testing in Montgomery county MD has 35% homes with results 4 and above. And Radon testing Potomac, Montgomery County, Maryland even higher, more than half home in Potomac, high 58% have elevated radon level above 4 pCi/L. Radon in Howard county has 46% residences with elevated radon levels.
As you can see by the information listed above, the radon levels in the state of Maryland are above average. Most homeowners in MD have health hazard risks in their homes, which is why we recommend the test radon level at least twice a year.
Call or Text Now: 240-242-5544
The constant exposure to radon gas in your home could be toxic and deadly dangerous. CE radon services provide radon gas testing for your family safety.
Radon gas is a class A carcinogen that causes lung cancer. The U.S. EPA has worded it simply, stating, "Any radon exposure has some risk of causing lung cancer. The lower the radon level in your home, the lower your family's risk of lung cancer." People receive radiation from many outdoor sources; however, the continuous exposure to radiation from radon at home combined with exposure to all other radiation sources, natural or man-made is extremely dangerous.
Call or Text Now: 240-242-5544
Protect Your Family
Radon has become a priority subject in the real estate transactions and home inspection industry since 2016 Maryland radon law was announced to the public. Homebuyers have a right to know about the radiation level from radon gas. That's why a real estate contract must have radon contingency and have radon inspection on the property before its purchase.
Reducing Radon
When an elevated level of radon is determined in a home radon mitigation is recommended to the homeowners and every 2 years instant radon test to verify that the mitigation system still working properly. A mitigation contractor performs work that reduces the amount of radon in the air as much as is possible. Radon can be reduced to extremely low levels.
Since radon testing in Potomac  Maryland is in zone 1 with high levels of radon throughout Potomac, Montgomery County, Maryland we extremely recommend testing for radon done prior to the home purchase.
Call or Text Now: 240-242-5544
Contact Us Form:
CE Radon Testing ℠ MD VA DC is serving the following areas:
Maryland: Columbia, Silver Spring, Olney, Wheaton, Ellicott City, Germantown, Bethesda, Frederick, Gaithersburg etc.
Google Reviews