Radon Testing In Frederick County .
You can't see radon. And you can't smell it or taste it. But it may be a problem in
your home. Radon is a radioactive gas. Testing you home for radon in Frederick county is the only way to know if you and your family are at risk from radon. CE Radon offers easy digital testing for 48 hours which provide radon level measurements per hour. We use NRPP approved Sun Nuclear Radon analytical device, it comply with the state law and regulations. Device is calibrated and passed performance test for the most accurate results and your safety.
Frederick County has an EPA assigned Radon Zone of 1. A radon zone of 1 has an average indoor radon level greater than 4 pCi/L, which is above the recommended levels assigned by the EPA. About 58 percent of the houses has elevated radon level and carry health risks for its residents. Natural radioactivity is exhibited by several elements, including uranium, radium, and radon gas. Radon gas migrate through cracks and crevices in building foundations, then into the internal air volume where it changes into the more harmful radioactive heavy metals. Average radon level in Frederick county currently is 12.3 pCi/L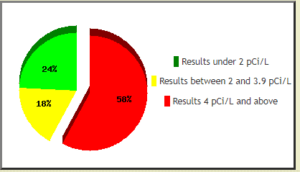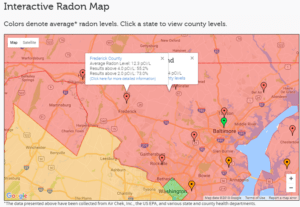 Most U.S. EPA lifetime safety standards for carcinogens are established based on a 1 in 100,000 risk of death. Most scientists agree that the risk of death for radon at 4 pCi/L is approximately 1 in 100. At the 4 pCi/L EPA action guideline level, radon carries approximately 1000 times the risk of death as any other EPA carcinogen. It is important to note that the action level is not a safe level, as there are no "safe" levels of radon gas.
Radon is a national environmental health problem. Elevated radon levels have been discovered in every state. The US EPA estimates that as many as 8 million homes throughout the country have elevated levels of radon. Current state surveys show that 1 home in 5 has elevated radon levels.
Call Mike for a Quote, Cell: (301) 275-5640
CE Radon is proud to serve clients in Frederick County. We offer digital radon testing service in Frederick, Urbana, Monrovia,
Thurmont, Middletown, Walkersville, Brunswick, Woodsboro, Adamstown, Emmitsburg.