Radon is a colorless, odorless gas that can leak invisibly into your home and cause lung cancer. CE radon Test help Maryland Residents to measure level of radon radioactive gas in the house with digital radon monitors.
According to the United States Environmental Protection Agency (EPA), radon causes roughly 21,000 lung cancer deaths each year. Moreover, the U.S. Surgeon General has informed that radon is the second leading cause of lung cancer in the United States and is the leading reason of lung cancer in nonsmokers.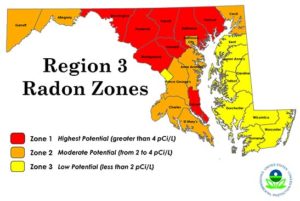 Protect your family by testing your home for radon. Have a test taken as soon as possible. We are the team of Professionals, have successfully completed formal training and became certified with National Radon Safety Board(NRSB) as Radon Measurement Technicians. Our team strives for the highest standards of practice and integrity in radon testing and services. We understand the health risks associated with radon. Our experience and thorough knowledge of measurement techniques ensure the accuracy of testing. We use active radon testing devices approved by the Maryland (including Montgomery County), Virginia, DC. We advise to perform continuous radon monitoring for 48h time frame. This method records real-time continuous measurements of radon gas every hour.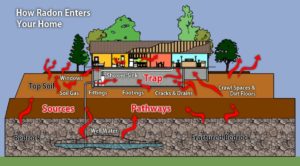 Stop to worry about your family members health and get piece of mind with a full radon inspection from CE RADON testing team. Avoid a lifetime of high exposure to the radiation and schedule your home air test today! Remember, you can easily fix a radon problem.Contact us  240-394-6344 to schedule an affordable radon testing in Montgomery county and nearby DC metropolitan areas.
Onsite rapid Radon Testing – 2018 limited Special Offer $199!
If your test results has arrived 4 pCi/L or higher the EPA recommends further action. The cost of a radon reduction system by a certified radon mitigation can generally range from $800 to $2500, depending on the characteristics of the house and choice of radon reduction methods. The average cost of a radon reduction system is about $1200.
CE Radon Testing ℠ MD VA DC is serving following areas:
Maryland: Baltimore, Annapolis, Columbia, Silver Spring, Dundalk, Wheaton, Ellicott City, Germantown, Bethesda, Frederick, Gaithersburg etc.
Virginia: Arlington, Alexandria, Falls Church, Fairfax, Fredericksburg, Manassas etc.
Washington DC
Call Now  240-394-6344 for a more information!
CE Radon Testing ℠ is servicemark operated by Calamus Enterprises Llc